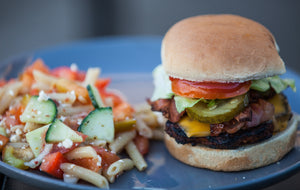 Big Red Burgers
I love everything Big Reds. I just wish I could get 5 lbs of bacon instead of 11. I have no one to split it with and no room for the full box.
Keep a box in your freezer
These are great frozen burgers to have on hand in the summer. Quick on the barbeque, tasty, juicy and not too big. Also good with mashed garlic potatoes and homemade mushroom gravy. We have bought meat from Big Red's for years and are always happy with the quality.