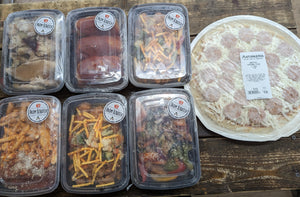 Saves my sanity
I love when I order these meals. I have no time to make dinner. I can out these in the oven (I don't have a microwave), make a salad and dinner is ready. They taste great and are good quality for the price.
So helpful
So glad I tried this box. Received my first delivery today and everything looks amazing!
Great Food, but…
The food was great but we were disappointed that the driver left it on the porch in the sun without even ringing the bell. Thankfully we noticed before it all melted.
There were 3 cars in the driveway and the driver didn't bother to knock or ring the bell.
Busy box
It was ok but some items that I did not care for...meatballs tasted bad and don't like brie
Mostly very good
Good quality and mix of things. The frozen pies are not recommended. The lemon meringue was disastrous but my money was promptly refunded. I will order this box again.